It's the little things that make you happy when living in England
Living in England as an American is mostly good. It takes a long time to learn how things are done, adapt, fit in, find friends, feel at home, and love the way of life here. It's not easy, but it does get easier. I love talking to newbies, people who are struggling, people who need to hear the positives. My life and outlook on life has definitely changed since I first moved here.
Things that make me ecstatic that I never thought would even factor in, let alone make me happy and add to my enjoyment of life.
Doing a wash and bringing in dry clothes from the washing line, within 6 to 8 hours only
Not having to turn the heat on to heat the radiators in order to dry clothes
Buying peanut butter from Marks & Spencer
Buying Kraft Macaroni Cheese from Ocado
Being asked in a shoe or clothing store if I need any help
Being smiled at by staff pretty much anywhere
When our food order comes all together and no one has to wait
When my youngest child's food order comes first (instead of very last)
Public transport
Watching Britain's Got Talent with my children
The splendor of the Royal Pavilion in Brighton
The view of the sea while I watch my children do their swimming lessons
Discovering new books about cross culture, TCKs, CCKs, language, mixed race and cultural differences
Meeting other Americans
Always having an extra sweater or jacket when out and about, even in August
People asking me where I'm from and not being surprised at my response
Really good pub chips (french fries, not potato chips)
Online Tesco delivery
Meeting people from Romania, Bulgaria, Russia and Holland (and probably many other countries too)
Talking to other parents about raising children in Britain
Talking to other parents about raising children in America
Being called 'love' by taxi drivers
Being called 'mum' by my children
When my husband makes me a 'nice cup of tea'
Discovering short breaks to places like Amsterdam and Bruges
Visiting Spain, another foreign country that is nearly becoming my third 'home'
Business lunches in London
Street food
Finding a place to park our car in front of our house
My dishwasher
Keeping in touch with family and friends who live all over the world via Facebook
Meeting amazing people who share my sense of global entrepreneurial spirit through Twitter and Expats in Biz
Pinning on Pinterest
Afternoon tea at Bill's (actually, afternoon or cream tea anywhere!)
Asking "What do you fancy…"
Saying "I'm knackered"
When my neighbors smile at me
When my children smile at me
When my children's friends ask for a 'cookie' instead of a 'biscuit'
I could go on! The joy (or should that be the trials and tribulations?) of living in England! Of course there are plenty of things that make me unhappy (such as having to bust a gut to bag up my shopping quickly so as not to anger the checkout person or annoy the next customer by taking too long) but I wanted this post to be full of all the wonderful and somewhat weird discoveries that have become so much a part of my cross-cultural life within a cross-cultural family here in England.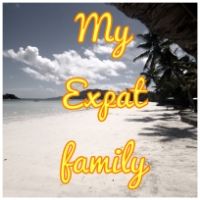 ******************
Meghan Peterson Fenn is the author of Bringing Up Brits and co-author of Inspiring Global Entrepreneurs with Heidi Mulligan Walker. Meghan is also the Director and Chief Designer at her own design company, White Ochre Design Ltd. And, she is an award winning expat blogger.