Understanding how to be British but still American through and through
Inspired by a blog post by Amanda van Mulligen, a British expat in the Netherlands, this post is about the fact that while being American through and through, I mostly (probably not completely just yet) understand and really get what it means to be British. And, shock horror! I sometimes really love it! From the British 'paranoia' to their love of Branston Pickle to their tendency to drink a ridiculous amount of builders' tea – I get it.
I've been here since the very end of 1998. I came intending to stay for just a few years with a desire to only live in London and then move back to my home country to get serious about my life. Well, turns out I've never lived in London, never left England and definitely got serious about my life – British style! I have a successful career as a designer and company director, I've written and published two books (both about being an expat), I've given birth to and am raising three amazing cross-cultural children and am married to a very British husband. So here's an insight into my life as an expat American in Britain who's been here long enough to understand how to be British but still isn't:
I'm no longer offended by British humor, however I don't necessarily understand what is happening
I say 'sorry' way more than I ever used to, especially when it's the other person's fault
I smile and say hi to strangers I pass on the street or in shops and I don't care any more when they look at me like I'm weird. It's up to them if they want to smile back – and sometimes they do 🙂
I teach my children that American spelling, pronunciation and vocabulary is not wrong, it's just different – it's American English and that even though it's considered wrong in school here and they get marked down if they use American spelling etc to just secretly know that they are right
I love the expression 'cream crackered' because I am this a lot of the time and in order to understand it you first have to know what knackered means which I didn't for most of my life
I drive down small roads thinking they are much wider than they actually are pretending I don't hear the sound of the wing mirror being bashed off (I've had to replace many wing mirrors on all the cars I've owned!)
I love going to London pretending to be a savvy local when actually I squeal (inside my head) with delight when I see a guard with the big furry hat and strap way too high up their chin
I understand it and can empathize when Americans who visit Britain for the first time tell me living here is like camping but cringe when I know how offensive that can be to a British person even though it's not meant to be offensive at all
My children are all very British – this makes me feel proud and sad at the same time, inexplicable and slightly irrational, but true
British TV is way better than American TV (fewer commercial breaks, weird and wacky TV ads)
But American crime dramas are way better than British crime dramas
Sunday dinner tradition British style is part of our cross-cultural family life, although if we sometimes skip it I don't mind. On the other hand, if we miss it, my husband feels scarred for life
Getting measurements wrong is a common occurrence for me, confusing lots of people along the way
I still sometimes go to the supermarket expecting to find exactly what I want and then when it doesn't exist because it's an American product I have a mini tantrum setting a bad example to my kids who are very understanding and do a great job of consoling me telling me we live in England, not in America
The weather here is wonderful and I've grown to love it. No tornadoes, hurricanes or ice storms, just damp, rain and sometimes glorious sun
Train journeys are generally comfortable, convenient and enjoyable (compared to car journeys) and I love the English countryside and lush green everywhere – a thing of real beauty
Our cupboards are stocked with both British and American products such as HP sauce, Branston pickle, English mustard, JIF peanut butter, Aunt Jemima, Hidden Valley, Heinz baked beans and PG Tips – I know and understand that running out of tea bags can traumatize my husband so I always always make sure we are stocked up!
I never have nor ever will say or write 'cheers' as a substitute for 'thank you' or 'bye' and I still do a hidden double take when people say 'cheers' to me to say 'thank you' or 'bye'
My son's best friend asks me for cookies now (instead of biscuits) which I love and think is adorable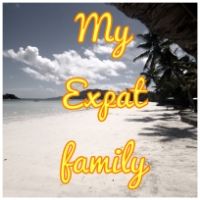 ******************
Meghan Peterson Fenn is the author of Bringing Up Brits and co-author of Inspiring Global Entrepreneurs with Heidi Mulligan Walker. Meghan is also the Director and Chief Designer at her own design company, White Ochre Design Ltd. And, she is an award winning expat blogger.