30 things I love about my cross-cultural kids
They call cookies cookies and not biscuits.
They love peanut butter even more than I love peanut butter, and I love peanut butter. I recently watched a movie about an American family who moved to France. They asked where the peanut butter was in the store and were met with scorn. So the British are not the only ones who dislike the American obsession with peanut butter!
They enjoy eating meals together as a family and equally love my husband's British Sunday roast dinner and my American bean bake and macaroni cheese.
They have a great deal of tolerance for my 'weird and foreign' ideas.
They get excited about Halloween – yay!
Two out of my three children like 'Friends' just as much as I do.
My daughter's favorite dessert is Eton Mess – something I had never heard of until a few years ago.
They know who George Washington is (because I teach them American history lessons on the sly) and what he did and why he did it. This is something that none of their school mates know.
They have quarters and dimes mixed in with their euros and pence.
My two older children can translate for me and do so very willingly.
My eldest has a desire to live abroad when he's older and is intrigued by my childhood years in Texas.
They know way more European capitals than I did when I was their age.
Although they often mock my accent, they are actually quite good at 'speaking American'.
They understand that their American grandparents sometimes struggle with their accents and things they say so are good at being patient and explaining things.
My daughter is proud of her mixed heritage and although sometimes gets confused, she's not afraid to talk about it.
I love their accents and sometimes I have to stifle a giggle when they say something that sounds SO British.
My eldest and I shop online together for American snacks and drinks and salivate over junk food from my childhood.
They are happy to walk in the rain for an extended period of time without a raincoat or an umbrella. It does not phase them.
My daughter's role model is Emma Watson.
My 5 year old's favorite cartoon vacillates between Tom and Jerry and Sponge Bob Square Pants.
For all of my kids, Florida Disney trumps Chessington, Lego Land and even Alton Towers.
My older two have read and re-read every Harry Potter book and love the books over their film counterparts.
They say zed instead of zee.
They lecture me on my misuse of the word pants.
They lecture me on my 'bad' spelling.
They share my passion for good customer service.
Sometimes I can't actually understand what they are telling me because of their accents.
My older two recognize the British reserve and are proud to be British but they don't let their reserve inhibit or limit them.
They are learning how to be naturally resilient and optimistic. Not all the time, but I'll never give up leading by example.
After years of relentless training, writing 'Thank you' cards is something my older two do without me reminding them (well sometimes I have to remind them).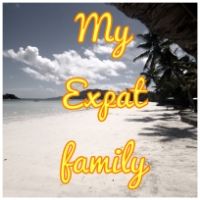 ******************
Meghan Peterson Fenn is the author of Bringing Up Brits and co-author of Inspiring Global Entrepreneurs with Heidi Mulligan Walker. Meghan is also the Director and Chief Designer at her own design company, White Ochre Design Ltd. And, she is an award winning expat blogger.