Year 9 options in UK schools
For those who, like me, had no idea what options meant or what GCSEs were then talk to your child's teachers – visit the school, find out all the information relevant to your child's year 10 and 11 options. Last week I attended the parents' options evening at my son's school for year 9 students. It was an eye-opener.
I had tried many times in the past to get my head around the UK state school system for the high school level but it isn't really until you're in the thick of it that you begin to have a clear understanding of what your child will go through. It is intense. Much more so than what I remember from my high school years in America.
Even though I did a few AP (Advanced Placement) classes at my high school, I really don't remember it being as structured as this. It certainly did not feel limiting as we took a very broad range of classes and never really had to choose in the same manner as my children have to do here in England.
As far as I can see (and I'll update as we go), there are certainly benefits in that children can focus on core subjects that they enjoy and do well in. I think this is a great motivator. It's also a solid starting point for when they go on to college (which is what I would term as the final two years of high school but here it is college and a completely different system) and have to choose a very narrow line of study. This then would help determine which University they could apply to as most of them specialize in particular and specialized courses. It's all starting to make sense!
However, there are a few drawbacks (maybe it's down to the particular school) in that there are only three language options. Italian is not one of them. And they have to choose between History and Geography – they don't take both unless they choose the one not chosen for the main choice as one of their additional choices. And it does look like they might not get their first choice in the additional choices. We shall see about that. To me, this does seem quite limiting at this stage in their schooling.
My son is excited about computing, food tech and possibly business studies. He's chosen French for his language and is doing double science. Of course they have to do English Language and Literature, Math, Science and PE (but PE is not examined).
What I am most impressed with is my son's positive attitude, his recognition of the hard work ahead, his forward planning on how to tackle learning and studying (which is called 'revising' here) and his determination to do well.
He is way more prepared and way less scared than I am!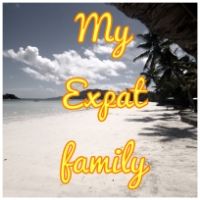 ******************
Meghan Peterson Fenn is the author of Bringing Up Brits and co-author of Inspiring Global Entrepreneurs with Heidi Mulligan Walker. Meghan is also the Director and Chief Designer at her own design company, White Ochre Design Ltd. And, she is an award winning expat blogger.