How to learn about the history of an English Castle? Horrible Histories!
What's the best way to learn about the history of an English castle when you have children? Why, Horrible Histories of course! Some of the best family days out are those spur of the moment, grab that opportunity and run with it type of days out and that's exactly what we had last weekend while traveling back home after visiting my husband's home county of Shropshire. I remember seeing the brown sign for Warwick Castle several times before on this drive and always wondered to myself if it was any good or not. Well, it's more than just good! It's a fantastic day out and has something for everyone – believe me – this is true because we have two teenagers and a seven year old and we're in our 40's and we all enjoyed it. Definitely one for the expat bucket list or any bucket list for that matter; I'm sure there are plenty of English people who've never visited Warwick Castle before.
The highlight for me was the Horrible Histories production about the history of Warwick Castle. From reading the books, I assumed a cartoon style stage show would be a little bit lame, mildly entertaining and possibly good fun for Jonah, our youngest. Wrong again! Brilliant! A talented two man show! So much fun, so funny, educational and surprisingly memorable. Much more memorable than reading plaque inscriptions or a guidebook. For older kids, the Time Tower was a perfect blend of interactivity, graphics and mystery. Both attractions were pretty much perfect.
One of the best parts of the day was having some down time relaxing in the peacock garden observing the birds, ducks and peacocks among the gorgeous roses and water fountain. There was actually a wedding happening with live music. Spectacular. The climb up to the battlements and back down was slightly challenging so give that a miss if you don't like heights or small confined spaces. However, the view from the top of the castle is worth the palpitations and stress. Stunning.
There is also a Horrible Histories Maze which was the highlight for Jonah who completed it despite our inability to help him. A great family day out. One tip – bring a picnic! Not much variety of food on offer and long lines. Another tip – book ahead to get the cheaper rates for tickets. We only booked one day ahead so paid the higher price. Still worth it.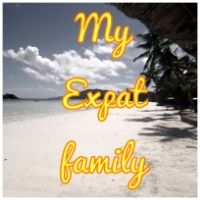 ******************
Meghan Peterson Fenn is the author of Bringing Up Brits, co-author of Inspiring Global Entrepreneurs, co-founder and Director of Design and Web at Shake It Up Creative. And, she is an award winning expat blogger and mother of three.