How to get over the Expat slump
Homesickness can be debilitating. Culture shock and homesickness combined can be completely crushing and plunges you deep into depression which impacts on your expat experience and life. I know. I've been there before. And, weirdly enough, I'm going through it again 18 years after my first expat slump. Expat slump is a mild way of describing this feeling of loss, loneliness and displacement. It really should be called expat misery!
Why am I going through this now? Well, perhaps it's because I recently visited the States and saw family and friends and reconnected with people and places I love and miss. My children had an awesome time and I got a glimpse of what life would be like for us in my original home country. The weather was of course glorious and despite the sadness (see my previous post), it was an amazing trip. Being able to live close to family, sharing their lives and having them be part of my children's lives is something we just don't have. It's something I lament even now more so than ever before. The journey home was traumatic and difficult and our homecoming back in England was sad and depressing. Although I love our British home and the life I've made for us here, I can't help the emotions that have been surging through me, reminding me that I am living life away from my own family and places and culture that were so much of part of me. It's not always easy to recognize that this is happening and I didn't at first. Here are some clues:
I've gone off English tea – something I learned to embrace and love. At the moment, I can't drink it.
Becoming British feels like a chore and my motivation to study the Life in the UK book has ceased.
I really hate that May is cold and wet instead of full of sun and spring-like weather, even though I know it's like this every year and I've got used to it.
I'm secretly looking at US real estate and what we might be able to afford, fully knowing that this is a futile exercise.
My tolerance for poor and even mediocre customer service seems to have gone way down which is weird after being so used it and not minding it that much.
My mind keeps harping back to some of the horrible experiences and people I've endured over the years as an American, newcomer and expat. Normally I wouldn't let any of that bother me.
I cry silently while I'm at work. Something I have not done due to homesickness for many years.

So, the big question is this: knowing what I know now, what am I going to do about this and how am I going to make it better? Here's some advice:
Talk to people, talk about it openly. This is something I didn't do 18 years ago because I had no one to talk to nor did I understand how I felt and what was happening so I didn't know that talking about anything could help.
Know that you are not alone – others have gone or are going through similar experiences.
Seek, find and give empathy. Facebook groups, online expat forums and blogs can be a good way to reach out to others who have gone or are going through similar expat slumps.
Meet up in person to support each other and have fun. But don't make it a gripe session.
Do something fun to cheer yourself up. Could be a day out or simply an indulgent piece of cake. (minus the English tea).
Whenever you feel sad or depressed, try to find the silver lining. For example, it might not ever be hot here for an extended period of time during May, June, July and August but that's OK because it forces us to go on holiday to hot places like Spain and Italy which is a fabulous and affordable thing for us to do (it wouldn't be as much if we lived in the US).
Bad, difficult and challenging experiences are part of life and what makes expat life so interesting. Think of all the great stories you have to tell.
For me, it's my children who I turn to (unknowingly on their part) for living proof and acknowledgement that I've done OK here and for inspiration to carry on embracing my adopted home country and making it work for all of us.
If you're going through an expat slump for the first time or again after several years of living abroad, please know that you are not alone. It is hard, there is no doubt about it. It happens to the most seasoned expats and can creep up on you when you least expect it. And if you have a bad day and want to rant and rave to yourself, then do that. Just remember that it won't stay forever and there are things you can do to keep positive and enjoy expat life which will, in turn, help you to continue to create a wonderful life for yourself and your family.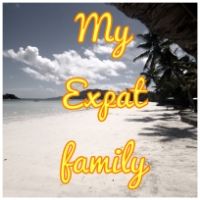 ******************
Meghan Peterson Fenn is the author of Bringing Up Brits, co-author of Inspiring Global Entrepreneurs, co-founder and Director of Design and Web at Shake It Up Creative. And, she is an award winning expat blogger and mother of three.